Coupon and Extra discount
Dear customer
All products for sale on the site are sometimes suggested discounts from the manufacturers in the industry.
To differentiate ourselves, we have created promotional campaigns with additional discounts on many brands on the site www.lampadaribesanza.com.
At certain times of the year, will be published and highlighted on the site, details of copuon with discount codes to be applied at checkout.
For more information on the "coupon" you can:
Register to the News Letter from the main page of the site

or

Register on the site and accessing from the panel of your account, subscribe to specific discounts and receive periodic news
otherwise, for specific information on "Coupon discounts Extra", you can send email us at: besanza@lampadaribesanza.com, with the subject "Information Extra discounts , or to call telephone number +39 0422 481037."
Why is our policy is structured discounts with coupons extra and not with prices visible?
We are official dealers of all brands available online, but at the same time we want to offer the products at the best price possible following a trade policy that we defined. We would like to point out, finally, that the campaigns "extra discount" is our initiative and constitutes a private contract and therefore not subject to discussion with other initiatives of the distribution network.
Cart Discount
Periodically we offer on some products and for limited time, discounts visible directly to the Shopping Cart. That is, to display the discount you need to add the product to the cart and then open the "Shopping Cart" page to display the percentage value and discount value of the selected product.
How do I know which product can be discounted to the cart?
The products with discount to cart have a note under the price that warn that the product is the subject of promotion, such as the image below:

Clicking on the text then opens a panel that show a brief disclaimer and the percentage value of the discount that is applied to the product, such as the image below: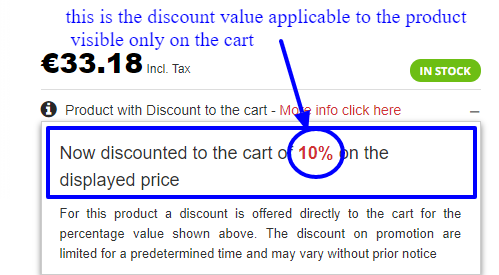 Let's say that discounts in the cart are limited in time and for products, they also vary periodically for the value of the discount.
Special Offer

We are always very attentive to market news and prices. For this reason we try to always create new purchase proposals for our customers that meet the needs while looking at the portfolio.

For this reason we often offer products in special offer and with a particularly exceptional price offer, but very limited in time. All these products are indicated by a counter that appears both in the categories lists and in the product page.

These offers vary very quickly and for this reason we advise our users to visit the SPECIAL OFFERS page often.
Besanza Chandeliers